GmBS Course Introduction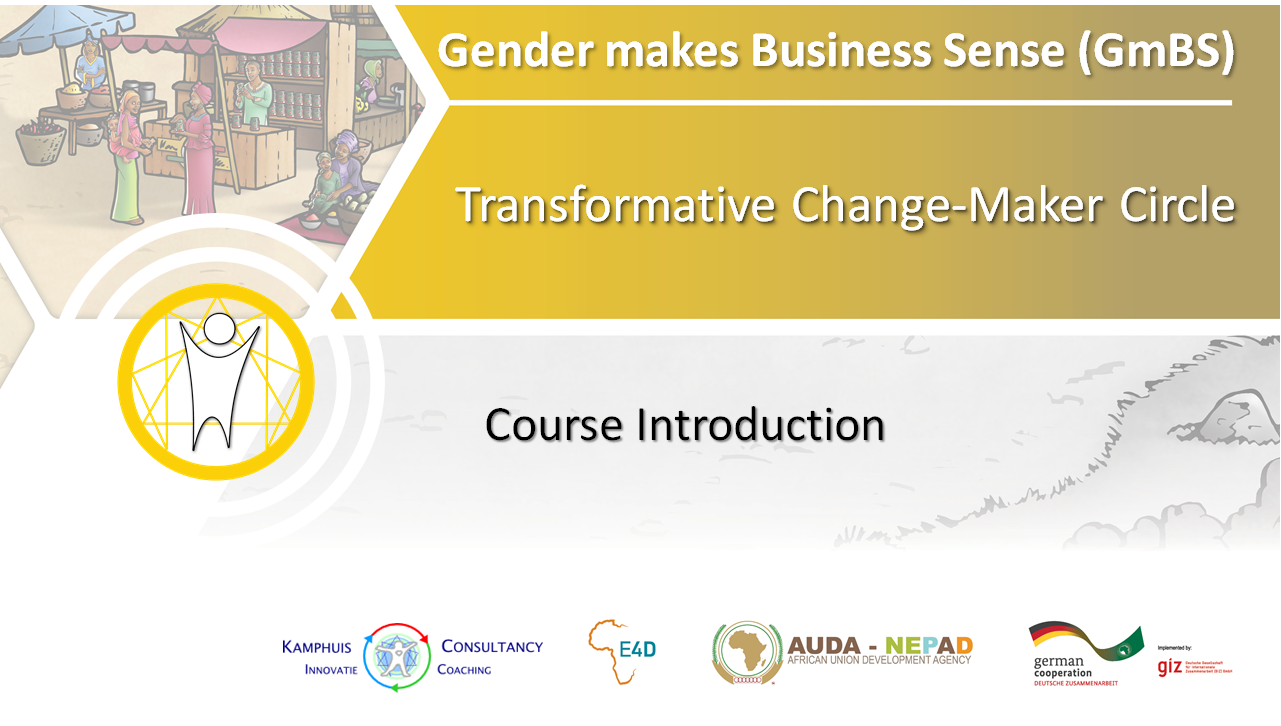 Overview of the Transformative Change-Maker Circle Course
The InnovationCircle introduces you to a language and a method which helps you work with the complexity of an agripreneurs reality. Key to using this approach is finding your Personality Type as this influence how you facilitate and work with the tools presented.
Your investment in using the InnovationCircle and spending time on practicing the use of the facilitation tools introduced in this course, will develop your awareness and capability as change-maker.
The InnovationCircle (IC) is a map about how people bring about change and transition. It shows us the collective potential we have to adapt, change and renew.This approach helps you let business owners develop their confidence to grow their agribusiness in a way that supports their wellbeing. Wellbeing includes an added emphasis on Gender mpowerment. (Listen further)
The InnovationCircle pivots around Five Stages. The Five Stages organize how potential builds and change happens. Be it an individual or a group the Five Stages guide how we nurture an idea and make it tangible in serving its purpose. The Five Stages are the central spine around which we organize the flow of information, energy and activity between each other as we interact with the environment.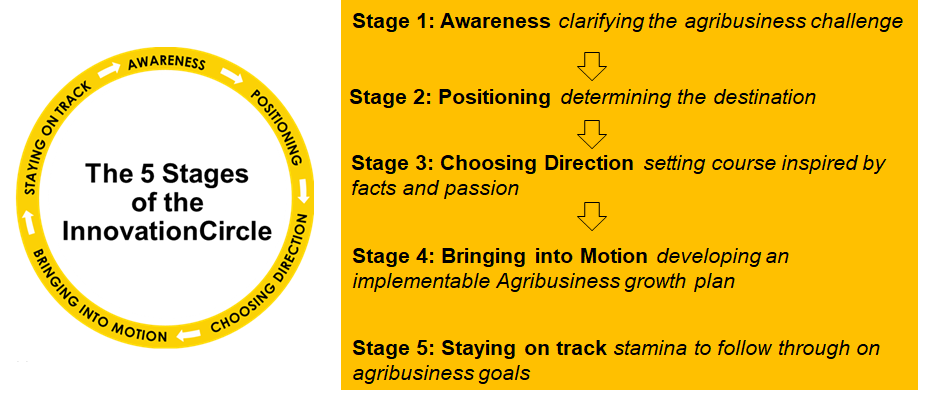 The follow order of the 5 Stages begins with Stage 1: Awareness.(Listen further)

The five stages of the Innovation Circle show how society works in manifesting changes, implementing new ideas.
In relation to the InnovationCircle we specifically will make explicit how personality impacts the process of change and innovation.
The InnovationCircle stages are also the basis underneath the 5 stepping stones of the GmBS Capacity Development Framework.
Even more specifically the implementation of the GmBS Programme has been organized in the follow order of the 5 Stages of the InnovationCircle. In other words, each Stage brings awareness to what each step in the capacity development framework is aiming towards. It begins with the Awareness of the Facilitator, as the primary catalyst facilitating and prompting the possibility for real change.

The Transformative Changemaker Online Course
This Online Course supports Facilitators in working with the InnovationCircleTM Approach and helps you focus your attention towards seeing each step within the GmBS Capacity Development Framework as a necessary steppingstone supporting transformative change.
The online course is designed for self-paced learning, with pre-work and post module practice informing the next module.
The role of personality as the driving force of the InnovationCircle approach in implementing the GmBS Framework, is worked out in module 1, 2 and 3.
As we go into more detail, we will experience how each module as a steppingstone builds up the follow-order of facilitating the GmBS Journey as facilitator with agripreneurs.(Listen further)
Starting the modules